From the Ministry of State for Tourism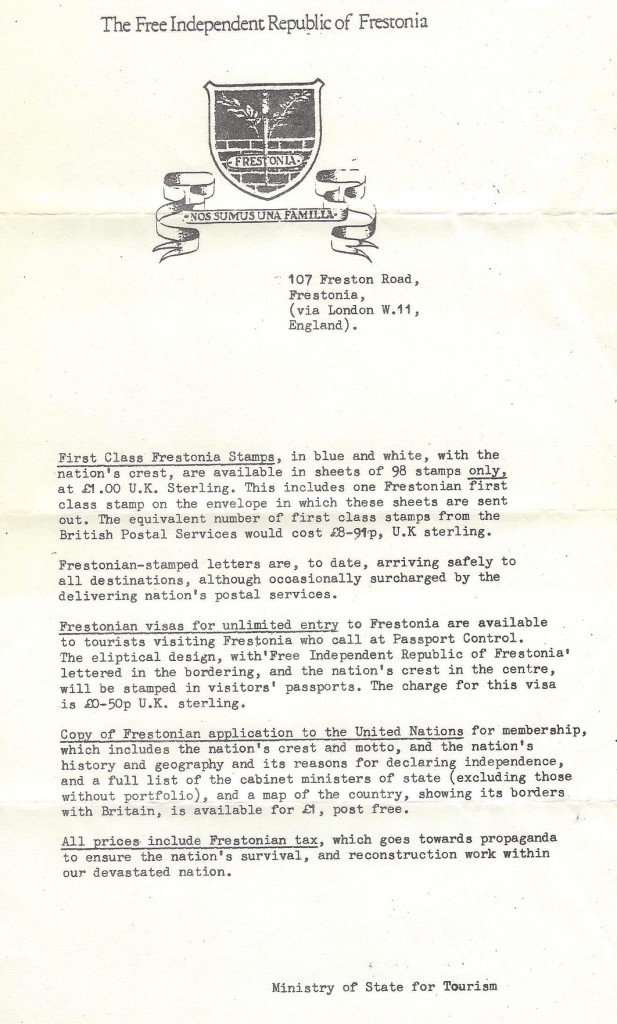 Transcript
---
107 Freston Road
Frestonia,(via London W.11., England).
First Class Frestonia Stamps, in blue and white, with the nation's crest, are available in sheets of 98 stamps only, at £1.00 U.K. Sterling. This includes one Frestonian first class stamp on the envelope in which these sheets are sent out. The equivalent number of first class stamps from the British Postal Services would cost £8-91p, U.K sterling.
Frestonian-stamped letters are, to date, arriving safely to all destinations, although occasionally surcharged by the delivering nation's postal services.
Frestonian visas for unlimited entry to Frestonia are available to tourists visiting Frestonia who call at Passport Control. The elliptical design, with 'Free Independent Republic of Frestonia' lettered in the bordering, and the nation's crest in the centre, will be stamped in visitors' passports. The charge for this visa is £0-50p U.K. sterling.
Copy of Frestonian application to the United Nations for membership, which includes the nation's crest and motto, and the nation's history and geography and its reasons for declaring independence, and a full list of the cabinet ministers of state (excluding those without portfolio), and a map of the country, showing its borders with Britain, is available for £1, post free.
All prices include Frestonian tax, which goes towards propaganda to ensure the nation's survival, and reconstruction work within our devastated nation.
Ministry of State for Tourism